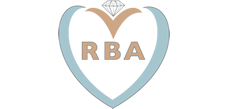 Buy with confidence!
Established in 1995, the RBA is a UK wide organisation of independent bridal retailers dedicated to providing top quality customer service to their customers. As professional retailers, each member has been trading for at least 5 years from 'Bricks and Mortar' premises, subject to local authority health and safety regulations, is VAT registered, (and therefore subject to audit by the Inland Revenue) and is dedicated to maintaining quality and choice of product, expert customer advice, fair trading standards and financial stability to ensure that sourcing your wedding gown is a smooth and untroubled experience.
Statement of Principles & Declaration
In the event of a member's involuntary cessation of business, the Retail Bridalwear Association Ltd (RBA Ltd) provides that it will at it's discretion endeavour to source your bridal gown from the manufacturer as itemised on your gown order form, and registered with the RBA as per the instructions below. Alternatively, will negotiate with, and go between the customer (bride) and the liquidators/administrators of the member shop in question, to ensure a sooth transfer of goods, should these goods be held by the liquidators/administrators.
Terms and Conditions:
The 'Scheme' will only consider claims relating directly to the supply of the Bridal gown and does not include any ancillary wedding party attire or services.
The 'Scheme' covers one Bridal Gown for the one wedding as stipulated at the time the order was placed.
The RBA Ltd must be notified in writing of a claim within 28 days from either: the date of involuntary cessation or, notification of involuntary cessation, whichever is the latest?
The RBA Ltd will only consider a claim made under a legitimate contract with it's member and supported by a fully completed and validated RBA Ltd 'Brides' Assurance Scheme' declaration.
No request for assistance will be considered if either party cancels the contract prior to the involuntary cessation of the members business.
The 'Scheme' does not provide assistance to a customer relating to any dispute with the RBA Ltd member in respect of delivery, payment or supply of the Bridal Gown.
Any assistance required under the 'Scheme' must be accompanied by valid receipts and evidence of payment at an RBA member shop together with matching point-of-sale details of customer, goods, payment and date of wedding as registered by the customer on-line at www.rbaltd.org.uk
The registration must have been received and validated within 21 days (including public holidays) of the purchase date.
Wedding Dress from an RBA shop
It is such and exciting and special time for you and your family, and it's important that you can purchase your beautiful wedding gown from a trusted and truly professional store.
That's where the RBA (Retail Bridalwear Association) comes in. The shop that has handed you this leaflet is a member of the RBA. They are one of only approximately 80 stores nationwide to have qualified for the much sought after RBA membership.
The are one of an elite collection of top bridal stores.
This means that they have been inspected, they are professional, are financially sound, Health & Safety compliant and only deal with genuine reputable dress designers, they are insured and most important of all…you can be sure that they will look after you in the most special, competent and professional way that any bride deserves.
Also…
Did you know that when you buy your wedding dress from an RBA shop, you can register your dress purchase with the Bridal Assurance Scheme (BAS).
This means that if the RBA shop you purchased your dress from was to financially fail and involuntarily close, you could then contact the RBA who would endeavour to source YOUR dress from the designer and have it delivered to yourself or another RBA shop.
This truly sets this RBA shop apart from other bridal shops. When making such a special purchase it is so important to know that you will be looked after and have the support not just of your elite RBA shop but the reassurance from the RBA too!
We are Team Bride and promise to always go that extra mile for our shops and their customers!
The RBA has superb relationships with the leading dress designers and will pull out all the stops to ensure that you will still get your dream dress! It is worth noting that in its 20 year history, that to date, no RBA shop has ever gone into voluntary liquidation.
You can trust a RBA shop and buy your gorgeous wedding gown with confidence.
For more details about RBA shop vist www.rbaltd.org.uk