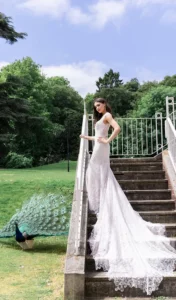 You can get in touch with us using the contact form below. Or if you prefer you can call us – Brides of York please call 01904 633655 and For The Bridal Lounge Northallerton 01609 776619.
If there is a specific gown you have seen on our website do let us know so we can make sure it is available for your appointment.
We will be closing for our annual Christmas break on Saturday 16th December & re-open on Wednesday 3rd January 2024. Pre-booked appointments are available on select days, these will carry a £40 booking fee which is redeemable against a gown purchased at the appointment.
From the 4th December the boutique will be open for appointments only.
We would like to wish you all a very Merry Christmas & Happy and Healthy New Year!!
Opening times are 10am – 4pm Tue-Sat at Northallerton.
If you have a preferred date for your appointment please specify below.
To help us assist you better please fill out our questionnaire.
For comfort you are welcome to bring up to 3 guests along to an appointment, thank you for your understanding.